At last, an ABSOLUTELY CLEAR original video of the huge cascade of molten steel, falling from the WTC South Tower shortly before it collapsed.
http://www.youtube.com/watch?v=ZMlMqGwGwGc
The crucial details are hidden in plain sight in this video, because there is so much else going on in the picture. The steel cascade doesn't stand out unless you force your eyes to remain on a particular area of the image. But if you do, there's no mistaking it. A huge 'waterfall' of yellow-hot molten steel, emerging from the very point at the corner of the building where the collapse begins a little more than one minute later. The falling substance is clearly molten steel - it is so heavy it falls directly vertically, in a very narrow plume. It is not deflected at all by the wind, so must be very dense. It stays brightly yellow-hot all the distance it visibly falls (tens of stories) so must have a very high heat capacity. At the point of origin there are bursts of smoke much whiter than any of the other dark, sooty smoke from the building, further substantiating Thermite as the only possible source of such hot liquid steel. The cascade of molten steel continues (though at varying rates) from around the 2:16 mark, up until only seconds before the collapse begins at 3:46. It must have involved a HUGE amount of yellow-hot liquid steel, and thus large volumes of Thermite.
This video was recently obtained from NIST, though they had to be forced by means of a Freedom of Information lawsuit to release it. See:
http://911blogger.co...and-videos-nist
International Center for 9/11 Studies Secures Release of Thousands of Photos and Videos from NIST
There are several videos linked to in that article, and the points made in the text regarding them are all valid. However I noticed that the 911Blogger writer seems to have overlooked something highly significant in the video titled "Visible Explosions at WTC".
It has been mentioned elsewhere on the net before that molten steel poured from the building before collapse. However I don't think there has been any very clear video of the ongoing cascade of steel, showing the full context. In this video the cascade of molten steel is clearly visible, from start to finish.
Here's a frame capture from the video during the steel cascade, with the cascade indicated.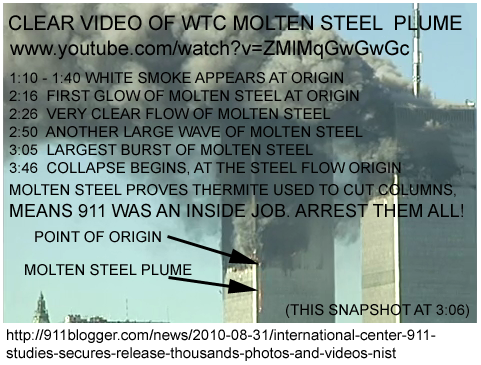 Watch the video, keeping your eye on the 'origin' point. There's absolutely no question about this. Large amounts of molten steel, falling from the South Tower. Such molten steel at that time, can only have been created by large volumes of Thermite. That Thermite must have been emplaced well beforehand, with the sole purpose of cutting the massive steel supporting columns of the building. This proves, finally and totally, right in front of our eyes that 911 was an inside job. And *everything* said at the time and since attempting to prove otherwise, was merely lies by those implicated. Fabrications by the US government and complicit mainstream media, attempting to push the Neocon political agenda of foreign wars and domestic enslavement. Not to mention saving themselves from arrest, trial and execution for Treason, Conspiracy, Mass Murder and War Crimes.
Given the ultimate proof provided by this video, and the mountains of other damning evidence collected over the last nine years by tireless independent 911-Truth researchers, there is no longer any excuse for inaction on the part of law enforcement. If the true perpetrators of the 911 mass murder are not under arrest by Christmas 2010, it means all hope of Justice in America has died. Which means America itself has died.
Incidentally, here are some lists of the prime suspects. Arrest them all, sort them out under questioning.
http://www.whodidit.org/cocon.html
Suspected 9-11 Criminal Coconspirators
http://www.afterdown...rg/warcriminals
50 Top U.S. War Criminals
http://www.wrmea.com...04/0407027.html
2004 Top Ten Career Recipients of Pro-Israel PAC Funds
http://www.fourwinds...hp?q=1252000476
http://theinfounderg...8d6399cd9f4ee14
Israel did 9/11, ALL THE PROOF IN THE WORLD!!
http://rightweb.irc-...ne.org/profile/
Know Your Neocons - A Comprehensive List