I decided to put together a collection of facts regarding my country, Greece. This thread will be composed of several posts with various subjects. Some facts maybe redundant but i am sure you will like it.
So, check out some interesting and fun facts. Hope you enjoy:)
Greece,
the name only brings the thought of historical sites and people in robes in mind.

One

of the most popular tourist destinations in Europe, the country is visited by a large number of tourists every year.

It is

the place where pristine beaches mesmerize you with azure waters and serene surroundings, the place where archaeological and historical sites transform you to a different time altogether.
Nature has

endowed Greece with bewitching beauty, mainly in the form of picturesque islands. These islands lure tourists to forget the grinding tensions of daily life and rejuvenate their body as well as soul.
Interesting Facts about Greece
The official name of Greece is the Hellenic Republic.

Athens is the capital of Greece. It is also the most populated city in the country.

Ancient Greek civilization comprised of Southern Italy, the coastal areas of Turkey and the Black Sea, along with some colonies in North Africa, Southern France and Spain. Modern Greece is just a part of it.

80 percent landscape of Greece comprises of mountains. Only one half of the country is covered by forests, the other half is barren.

There are about 3000 islands in Greece. However, only a few hundred of them are inhabited.

Greece boasts of having 7,000 (limestone) caves, which form 24,000 km of underground galleries.

Mount Olympus is the highest mountain in Greece, with a height of 2,919m. It is believed to have served as the home of the Gods in the ancient Greek religion.

As per 2007 UNICEF report, Greece had the lowest percentage of teenagers smoking cigarettes (or cannabis) or living in a step family structure.

WHO 2002 stats state that Greek men and women have the highest incidence of obesity in Europe.

The renowned Belgian pralines Leonidas have been named after the 5th century BC King of Sparta, who was homonymous.

Greece spreads over an area of somewhere around 51,000 square miles, with the length of its coastline being 9,300 miles.

There are as many as 63 different folk dances in Greece.

The popular yo-yo toy, the second oldest known toy in the world, originated in the days of ancient Greece, around 3,000 years ago.

Traditionally, Greeks have been known to celebrate their name days, rather than their birth dates.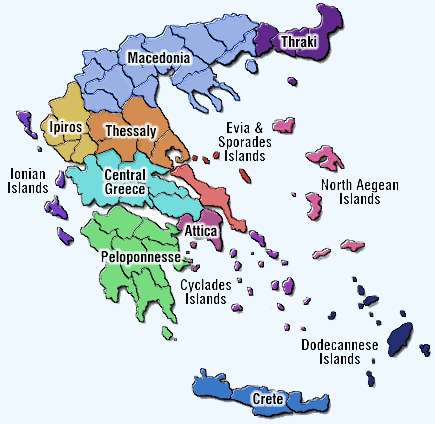 Greece has an area of 131,940 sq. km., which makes it about the size of Alabama — just slightly smaller.
98% of the population speak
Greek
. The rest 2% speak other languages.
The per capita income is $30,600 (as of 2008; U.S.A.: $45,800).
The infant mortality is 5.25 deaths per 1000 live births (2008 est.; U.S.A.: 6.3 deaths/1000 live births).
The life expectancy is 79.52 years (male: 76.98, female: 82.21) (2008 est.; U.S.A.: 78.14, m: 75.29, f: 81.13).
The literacy is 96% (male: 97.8%, female: 94.2%) (2001 census; U.S.A.: 99%, 2003 est.).