Aware of the increasing prevalence and dominance of Zionist Jews in the political, financial, and academic sectors, I came to the conclusion that I was living in Jewish times.

As an American raised with traditional Christian values, I realized that the culture I had grown up in was under attack and being reduced to a sub-culture. Through the Jewish-controlled media, a distinctly foreign and anti-Christian culture of pornography, perversion, and violence was being pushed. The producers of this "new culture" were primarily Jews of Eastern European origin. Through their control of the mass media, film, radio, and television networks, a diet of perverse entertainment and un-American values was being force-fed to the unsuspecting American people.

Concurrent with the rise of the Jewish-Zionist faction in the U.S. media was the significant increase in Jewish power in the executive, legislative, and judicial branches of government.
Their influence could be seen in the way the U.S. government and federal courts unfairly prosecuted innocent people, including the president of Austria, on unfounded allegations of crimes having been committed decades ago against Jews in distant countries. Meanwhile, there was a noticeable increase in the number and magnitude of crimes committed by Jews in the United States and the international arena that went completely unpunished.

As in the Soviet Union, Jewish criminals in America used the "holocaust" and the slanderous charge of anti-Semitism as a shield to protect their criminal network and extortion rackets by intimidating and silencing those who would dare to expose the monstrous crimes they were involved in.
A secret "combination" or Zionist network was clearly at work pulling the strings at the highest level behind the scenes.

THE ISRAELI ARCHITECTS OF 9-11 - "It's very good"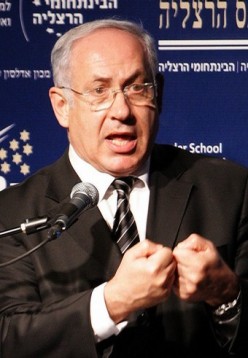 Benjamin Netanyahu,
leader of Israel's extreme right-wing Likud,
the party of former Irgun terrorists,
at the Ron Lauder School of Mossad U. (IDC),
Herzliya, 21 January 2008. (AFP/Getty)
"It's very good."
- Benjamin Netanyahu, when asked what 9-11 meant for U.S.-Israeli relations; New York Times, September 12, 2001.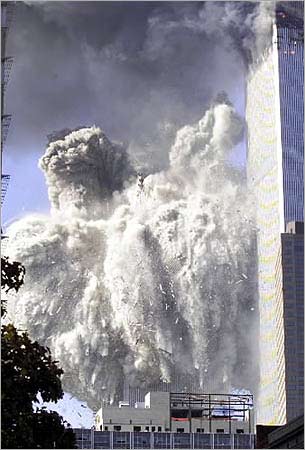 "We are benefiting from one thing, and that is the attack on the Twin Towers and Pentagon, and the American struggle in Iraq."
- Benjamin Netanyahu, as quoted in Ma'ariv, April 16, 2008