I practice best when playing thru headphones, and use a Korg Pandora PX5D Multi Effects Processor.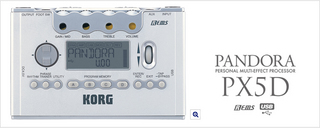 With an electric guitar it provides only a barely adequate level of volume to the headphones, unless heavily distorted preset programs are selected. With an electric acoustic guitar and an acoustic with a sound hole pickup, the level of volume is entirely inadequate, similarly unless heavily distorted presets are selected.

Thus playing an acoustic twelve string with a Seymour Duncan sound hole pickup thru the PX5D, with Preset 33 Acoustic there is absolutely no amplification, despite both volume controls are set to maximum!
I would appreciate any advice
Edited by Martin Timothy, 24 March 2014 - 03:10 AM.