╔═══════════════════════════╦═════════════════════════════════════════════════════════╗
║ Mission Briefing          ║                                                         ║
╠═══════════════════════════╬═════════════════════════════════════════════════════════╣
║ Launch date:              ║ 25 JUN 2016 /20:00:07:413 (GMT+8:00)                    ║
╠═══════════════════════════╬═════════════════════════════════════════════════════════╣
║ Launcher:                 ║ CZ-7 (Y1)                                               ║
╠═══════════════════════════╬═════════════════════════════════════════════════════════╣
║ Payload(Country):         ║ scaled model of Next Generation manned spacecraft       ║
║                           ║ + YZ-1A upper stage + 6 small satellites (PRC)          ║
╠═══════════════════════════╬═════════════════════════════════════════════════════════╣
║ Launch site(Country):     ║ Wenchang SLC (PRC)                                      ║
╠═══════════════════════════╬═════════════════════════════════════════════════════════╣
║ Launch pad:               ║ Wenchang LC-201                                         ║
╠═══════════════════════════╬═════════════════════════════════════════════════════════╣
║ Status:                   ║ Success                                                 ║
╠═══════════════════════════╬═════════════════════════════════════════════════════════╣
║ Orbit type and parameter: ║ 200 km x 394 km LEO                                     ║
╠═══════════════════════════╬═════════════════════════════════════════════════════════╣
║ Remark:                   ║ Maiden flight of CZ-7; Inaugural mission from Wenchang  ║
║                           ║ First Next Generation manned spacecraft, scaled model   ║
║                           ║ Scheduled to land on 26th afternoon                     ║
║                           ║ Launch code: 07-W1                                      ║
╚═══════════════════════════╩═════════════════════════════════════════════════════════╝

http://bbs.9ifly.cn/...-13078-1-1.html
Overview
2016/02/29
The first CZ-7 (长征七号; Changzheng-7 or Long March 7) should leave the horizontal assembly facilities by April and made ready for the 26 June 2016 maiden flight.
This will also be the inaugural mission from the newly completed Wenchang Satellite Launch Center, China's fourth and southernmost, located in the Hainan island province.
In about a decade from now, the super heavy CZ-9 manned Moon rocket will also take-off from this space center.
The payload for this first CZ-7 is said to be a scale size prototype of the next generation manned spacecraft's re-entry module, other sources pointing to a dummy Tianzhou resupply cargo spacecraft.
https://twitter.com/...396291052724224
Payload
The first CZ-7 launcher will carry 7 payloads:
1. YZ-1A (远征1A上面级; Yuanzheng-1A or Distant March-1A) upper stage
2. Reusable Next Generation manned spacecraft scaled model
3. Ao Long 1 (遨龙一号; or Voyaging Dragon) fitted with robotic arms as a "FU-GO Catcher" (space debris cleaner spacecraft)
4/5. Two Tian Ge (天鸽; or Celestial Columba) experimental inter-satellites transmission platforms
6. Refuelling spacecraft
7. Ao Xiang Zi Xing (翱翔之星, or Soaring Star) CubeSat form NWPU University (西北工大), with mass of 33 kg and planned mission of 1 year; will study the Earth's gravitational field, anti-radiation technologies and navigations technologies.
http://news.xinhuane..._1119111794.htm
New generation manned spacecraft
1. Number of passengers: 2 to 6;
2. Re-entry speed: Adaptation to second cosmic velocity reentry;
3. Flight endurance: ≥ 21 days;
4. Parking in space endurance: ≥ 2 years;
5. Speed increase; 14t spacecraft version 800 m/s, 20t spacecraft version 1700 m/s;
6. Main missions: 14t spacecraft version supports near-Earth orbit, asteroids and Mars missions, 20t spacecraft version supports lunar missions;
7. Configurations: two type of cabin configurations;
8. Aerodynamic shape: the return capsule uses blunt body shape;
9. Flight abort and escape system: self-powered escape mode or with the use of escape tower;
10.Re-entry heat shield material: lightweight low ablative thermal protection material;
11.Main structure of the return capsule: Mono structure panel;
12.Recovery: multi-parachutes combined with flotation collar, with both sea and land landing capability;
13.Power generation: photo-voltaic systems;
14.GNC (Guidance, Navigation, and Control): high-precision navigation sensor, jet control;
15.Control Communication: Ability to communicate through blackout;
16.Reuse: The main landing method is designed to ensure that the spacecraft can be reused with the smallest possible impact during landing.
Chinese taikonauts could enjoy a roomier spacecraft, this official concept from a CNSA feasibility study can carry up to six people, with an endurance time of over two years.
While the Shenzhou space capsule has served the Chinese manned space program well for nearly 16 years (since the unmanned test flight in 1999), the Chinese National Space Administration (CNSA) is searching for a replacement. An October 2015 Chinese blog post showcased a detailed CNSA sponsored study for a post-Shenzhou spaceship.
The 14 ton version would be used to conduct orbital missions, such as space station supply runs. The 20 ton version, with a larger propellant load, would be used to go to the Moon and other extraterrestrial missions.
Flying on future Chinese rockets like the Long March 5, 7, and 9, the study proposes a 2 to 6 person crewed capsule. The semi-conical reentry vessel would be attached to the propulsion and cargo sections in the service modules, similar in configuration to NASA's Orion capsule. At 14 tons, the basic next generation spacecraft would have nearly double the mass of the 7.8-ton Shenzhou. For deep space missions to near Earth asteroids and the Moon, the next generation spacecraft would have a larger service module, for a total mass of 20 tons. Given improvements in Chinese materials science to strengthen the thermal shield against reentry heating, it is hoped that the crew capsule could be reused.
Next generation manned spacecraft
Image showing a scale size prototype of the next generation manned spacecraft (right), compared to the older Shenzhou spacecraft (left), and possibly the payload for the upcoming June launch.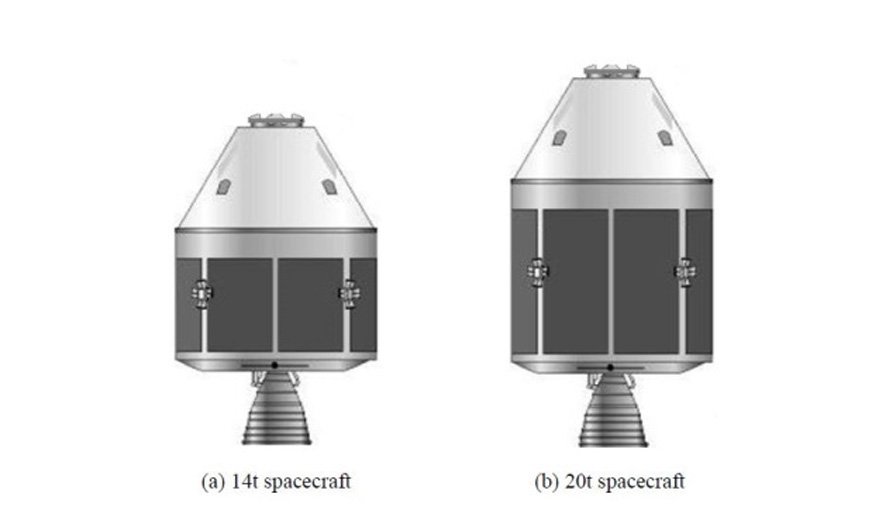 The spacecraft 1:0.6 scale model has a height of 2.6 meters and a mass of 2.8 tons.

https://twitter.com/...584737829949441
Parachute system of the next generation manned spacecraft undergoing testing
Presented as the world's largest, and made of three Shenzhou-size parachutes.
Source:
http://v.qq.com/page...01838xa66t.html
http://www.chinaspac...rst-launch.html
http://www.chinaspac...7/CZ7-2015.html
http://www.chinaspac...spacecraft.html
http://www.chinaspac...-Drop-Test.html
Supersonic parachute system of the next generation manned spacecraft scaled model undergoing testing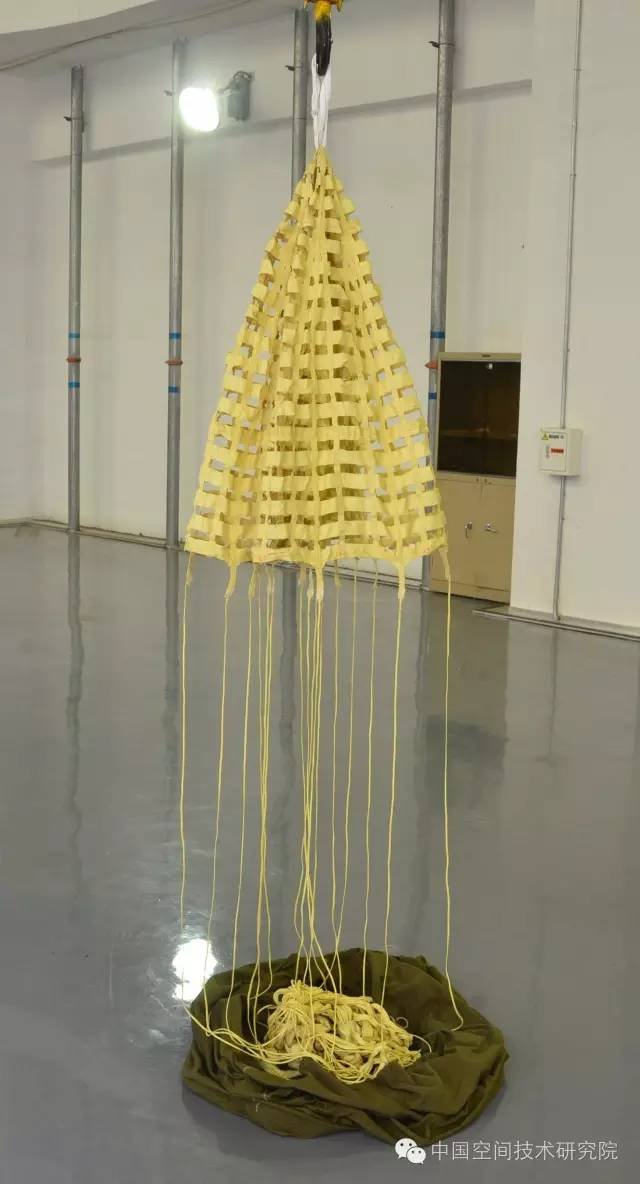 https://pbs.twimg.co...JpXUkAAENJ1.jpg
http://mp.weixin.qq....CsO8atBiM2gc#rd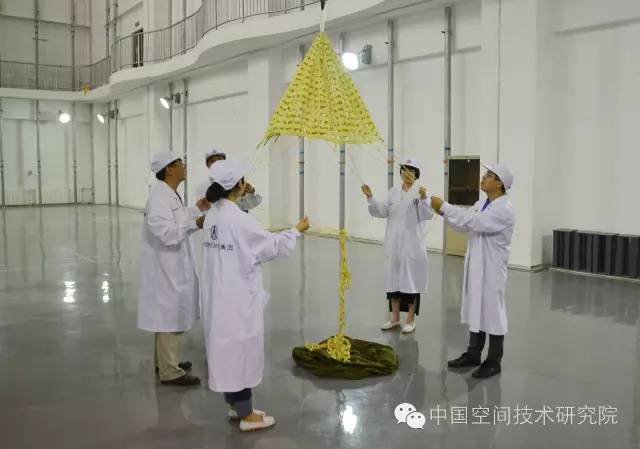 https://pbs.twimg.co...K5vUsAA7BI0.jpg
https://pbs.twimg.co...6OwVAAAXErD.jpg
https://twitter.com/...974024790511617
Opening of the 2 square meters supersonic parachute for 60 seconds, to be followed by the main parachute of 700 square meters
CZ-7 undergoing assembly
Edited by Soheil, 27 June 2016 - 10:02 AM.