John McCain's death prematurely announced by VFW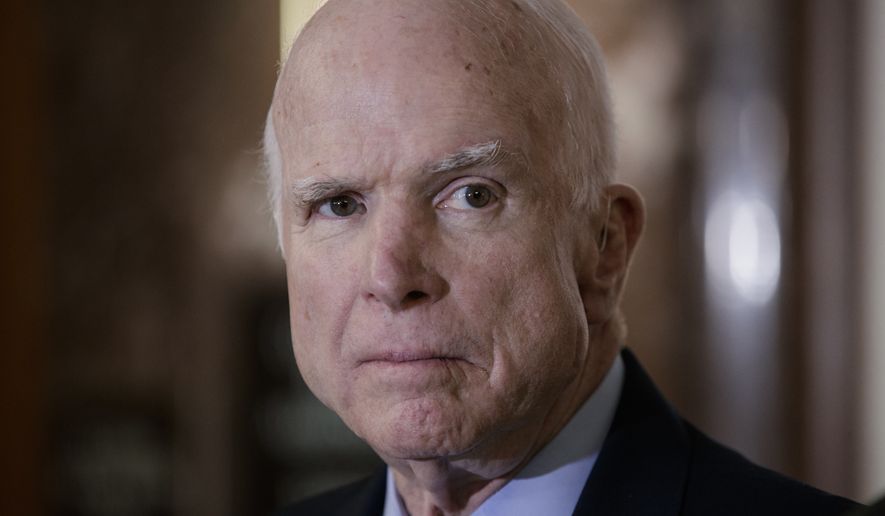 In this Oct. 25, 2017 file photo, Senate Armed Services Chairman John McCain, R-Ariz., pauses before speaking to reporters during a meeting of the National Defense Authorization Act conferees, on Capitol Hill in Washington. (AP Photo/J. Scott Applewhite, File) more >
By Andrew Blake
 - The Washington Times - Friday, May 11, 2018
The Veterans of Foreign Wars sent an email Friday prematurely announcing the death of Sen. John McCain, Arizona Republican, a longtime member of his local VFW Post.
"VFW Remembers Sen. John McCain," reads the subject line of a mass email received by reporters Friday.
"WASHINGTON (Month xx, 2018)," the body of the actual email began. "The 1.7 million-member Veterans of Foreign Wars of the United States and its Auxiliary are saluting the life of one of their own, U.S. Sen. John S. McCain III, who died (today/yesterday) after battling brain cancer."
The press release was drafted to be used after Mr. McCain's actual passing and was mistakenly sent out by the VFW's public affairs division, the veterans group told The Washington Times.
"It was a mistake, and for that I apologize to all recipients and most especially to the McCain family," said Joe Davis, VFW director of communications.
Mr. McCain, 81, was diagnosed last year with an aggressive form of brain cancer, glioblastoma, and is recovering in 
Edited by Mario Milano, 17 May 2018 - 04:53 PM.