BREAKING THE TIME BARRIER
I have had no time amidst the geopolitical turmoil to write one of Shaktiman's Patented Risque Posts.  No fagolas in heels. No lesbos with hairy chests. No transgenital transgender transients trampling truculently on some lascivious libidos. That's Not Shaktiman's Style.
No, this is for the truck driver and sailor crowd that love those old fashioned pin up girls with glamorous gams in wispy wardrobes.  
So let's do something a bit different. Let's make this a risque post combined with a Science and Technology Report.
What could be more appetizing than the Physics of Cheesecake?  
Space Travel With a Firecracker
Am I playing y'all? Of course. It's what all of us on Pravda do best.
But when it comes to my work in mathematics and physics, get someone smart that knows their stuff to check it all out rather than a US government baboon with a Piled Higher and Deeper degree.
No Monkeying Around Now!
BREAKING THE TIME BARRIER:
THE NEW AGE THAT NEVER DAWNED
http://www.businessi...018-5?r=UK&IR=T
"US military released a study on time travel and warp drives" and shows us once again that Mathematicians and Theoretical Physicists aren't always the sharpest tools in the shed. That is why it is often said in other nations that our US intelligence agencies are dumber than rocks.
Dr. Jiggs and his Beautiful Assistant Tandalaya
No doubt in the greater scheme of Life and in our Destiny in a VERY BIG Universe, a duplicitous and dishonorable US Press/Media, in tandem with a rotten to the core US government, have "cooked" the human species and helped seal a dismal fate for us all. This scientific research in Time/Space is identical with my academic field of expertise. Many, if not most US "experts" do NOT think this is doable. BUT - this is what has happened often at the dawning of major changes in mankind's collective trek through history.
Look at the Figures In Higher Dimensions 
But the idea that in moving back in time we would experience a door slamming and then swinging open, boggles the mind, but it boggles a very limited human mind. The modern niceties of computer models and high tech graphics are in today's mathematics like kindergarten crayon drawings compared to the Reality of Time Travel. Moving forward in the future is not to a fixed place in Time/Space and this also becomes problematic. Time is not Absolute. Thus, cause and effect get jumbled whether we move forward or back in time.
Why Age? Why Get Sick? Why Die? When You can Live and Soar to A Galactic Moon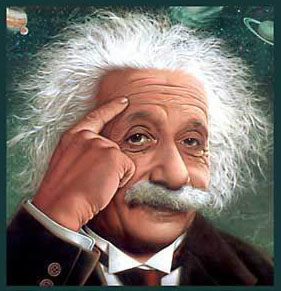 That's Right Albert, Think About Celestial Attraction
To complicate matters, hidden variables may even be found in the mendacious and dishonorable mindset of our species and could be a major obstacle in escaping our corner of the Universe that time affects by aging, disease, and death. So, is Time/Space Travel possible? Can we Break the Time Barrier like the Sound Barrier and even travel faster than the Speed of Light? Very few can do the math. Only the most primitive form of higher dimensions is apprehended by the brain, with rare exception. 
At 100 trillion years old, who could care about time?
Shaktiman was trained in this before being made a piece of cheese for rats to chase by our US government. Now Shaktiman's scientific perusal is needed but Shaktiman is not happy dealing with those in both the political and scientific communities that have no honor or character. Russia is now a bit better than the US in the physics of Time/Space assessments, as is China and a few other European nations and as a result they lead the pack in the quest for Breaking The Time Barrier. Twitter and any social media censoring knowledge will not help the cause. YES, Breaking the Time Barrier is doable but NOT the way the US is going about it. Guaranteed! 
Does it Really Look Like This?
Or does the Tanmatra of Sight let you see Close and Far Almost at Once?
https://www.youtube....h?v=_NBMDJpmoNs
"Music For Time Travel?"
Can't Really Build a "Contraption" To Get You There.
Over The Bounded Domains Of Time
You Sort Of Hitchhike.
If "You" Can Get A Ride, That Is,
To a Fifth dimension And Higher.
Regards.