Palestinians File War Crimes Claim Against Israel With ICC
The claim comes despite U.S. national security adviser John Bolton's warning on Monday.
"Palestinians have filed a war crimes claim against Israel with the International Criminal Court. 
The claim asks an ICC prosecutor to look into Israel's planned demolition of a Palestinian settlement in the West Bank. Israel says the village was built illegally and has offered to help residents move. But critics say Israel wants the land for itself.
The Palestinians' claim comes despite national security adviser John Bolton's warning on Monday. He threatened that the U.S. would impose sanctions against the ICC if it continues with investigations into Israel. Bolton also said Washington wouldn't cooperate with the ICC, calling it illegitimate and "already dead."
The Trump administration announced on Monday it's shutting down the office of the Palestine Liberation Organization in Washington, D.C. The administration cited the ICC claims, as well as accused the Palestinians of refusing to negotiate a peace deal with Israel."
Of course this is an affront to all that human history holds dear.
Only israeli jews kill like this.
There can never be peace with Palestinians or anyone when israelis have murdered their children.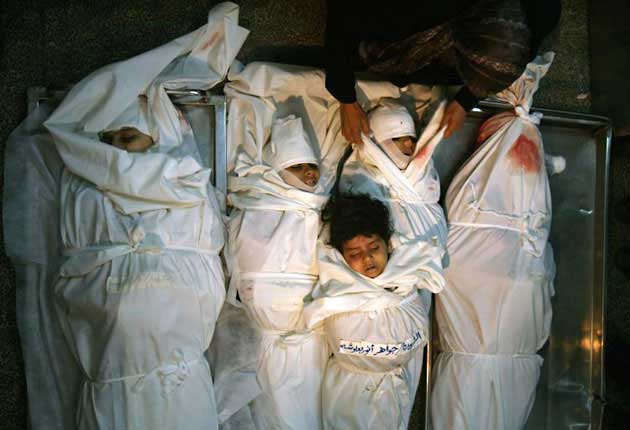 Even my son the Rabbi one step away shouldn't support this grotesque evil.
This morning I was censored by israelis on Yahoo.
Palestinians File War Crimes Claim Against Israel With ICC
Shaktiman: So what do you call all the killing of civilians and children by israel, chopped liver?
Israeli troll Ron: "They call it self defense. Both sides have to give and take."
Shaktiman: @Ron Is that what israeli troll Ron and israel call the murder of innocent civilians and children, self defense? I know how brave you must be with an automatic rifle gunning down a toddler. Wish you were here in NC. You know what they do to child killers like you and your jewish pals Ron? israelis probably need 10 of you to shoot a toddler or maybe you use an F-16 with air to toddler missiles. Wish you were right here in front of me but the Syrians and Russians are cleaning your israeli and turkish terrorist clocks. I'm dancing for joy.
America can not withstand this scenario. It will destroy us. The israelis aren't worth that.
Am I saying Muslims are honorable in the Near East?
Of course not, but only Muslim Turks, Saudis, and Jordanians help Jewish Israelis murder little children and then wave their flags. 
And this is why our planet is going nowhere but remains isolated on this God forsaken planet in a remote corner of the Universe away from all that is good, joyous, and peaceful. 
This should be quite an Apocalypse.
Regards,