Is US-China war inevitable?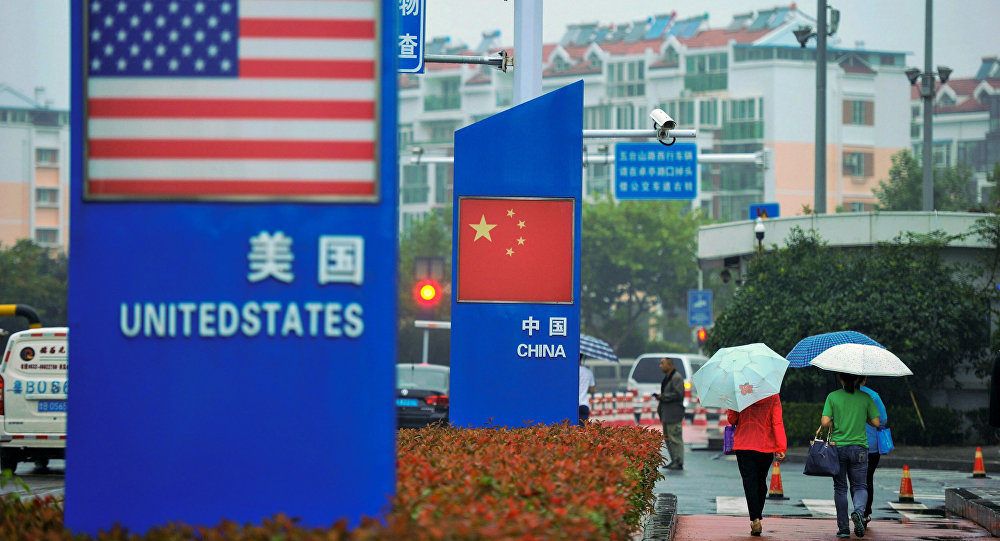 When a US warship narrowly avoided slamming into a Chinese naval vessel earlier this month in the disputed South China Sea, the incident could serve as a metaphor. The two economic giants seem to be on a collision course for war. 
That collision course was ramped up last week when US Vice President Mike Pence delivered a barnstorming speech declaring China as global enemy number one. Speaking at the rightwing Hudson Institute in DC, Pence castigated China for "increased economic and military aggression", and warned: "We will not back down." 
Pence did at one point say the US hopes to have a cooperative relationship with China, but the overall thrust of his remarks was stridently belligerent. 
The New York Times headlined: "Pence's China Speech Seen as Portent of New Cold War." 
There were even comparisons from some commentators to the infamous speech made by British leader Winston Churchill in 1946 when he declared an "Iron Curtain" with the Soviet Union, a speech which is seen as instigating the old Cold War between the West and Moscow that lasted for nearly five decades. 
Pence's remarks covered a gamut of explicit and provocative accusations against China. Everything, it seemed, was thrown at Beijing, from stealing American economic resources, to "oppressing its own people", to "meddling in American democracy". The latter alleged transgression by China was claimed by Pence to be on a scale that makes alleged Russian interference "pale in comparison". 
In other words, China is the foreign power that Washington seems to be targeting for confrontation. Russia has certainly come up against a raft of US hostility in recent years, especially since the Ukraine crisis. But China is the global rival that Washington is placing primarily in its crosshairs. 
Last year, the acclaimed journalist and film-maker John Pilger released a documentary entitled: The Coming War With China. Pilger recounted the proliferation of American military bases in the Pacific Rim region which are evidently meant to encircle China for an eventual shooting war, or at least to serve as a means of threatening Beijing into submission. Pilger's documentary is proving to be prescient given the ratcheting up of provocations by Washington. 
Pence's broadside against China has to be seen the wider context of multiple US moves. 
The Trump administration has started a trade war with China slapping punitive tariffs on an estimated $250 billion worth of Chinese exports. Those unprecedented costs to China's economy have, in turn, reportedly undermined investor confidence and stock markets in the country, which Pence appeared to gloat over in his speech. 
This week, the US dramatically escalated tensions by prosecuting a Chinese government official for alleged industrial espionage. The man was extradited from Belgium and has already been detained in the US for several months. The case is said to be the first of its kind. 
Comment: An interesting charge for the US to make given its rampant overseas espionage operations. 
There were also sensational reports in US media that China has embarked on a large-scale, elaborate scheme of planting computer chips in electronic devices exported to the US for the alleged purpose of spying on American citizens, companies and even the Pentagon. China dismissed the claims as "made up from thin air". 
Comment: That's also an interesting charge given what we know of US-made IT used by companies and govts globally that is rigged with US backdoors for industrial sabotage and blackmail purposes. 
There seems little doubt that Washington is pushing for a confrontation with Beijing. Trump has talked about how he is no longer friends with Chinese leader Xi Jinping. Last year, Xi was entertained at Trump's Florida beach mansion, when Trump swooned about sharing "delicious" chocolate cake with the Chinese president. 
The so-called bromance seems well and truly over. Trump is deferring to hawkish aides within the White House who have publicly relished the prospect of a showdown with China. Peter Navarro, the president's China trade advisor, has openly courted economic war with Beijing. Former advisor Steve Bannon is another advocate of belligerence towards China, going as far as predicting a war. 
It's a fair assumption that the Chinese leadership will do everything to avoid a war with the US. China's political culture is not aggressive and tends to view matters as a long-term transition. 
China may try to restrain tensions, waiting and hoping that in two years Trump will not be re-elected and that a more reasonable, the saner administration will come into the office. 
Beijing has rebuffed the claims made by the Trump administration. It says it has not interfered in US elections. As usual, the Americans offer no supporting evidence for their allegations, in the same way, that Russia has been reviled by Washington without any substance.