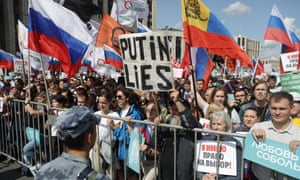 Ask yourself, why would Russians, who speak only Russian to each other, bring an English sign to a Russian protest?
One would suspect US or British involvement in this protest with such a sign glaring in the  spotlight of news cameras!   Why else except they know that the Western population communicates in English and would have no idea of what a Russian protest sign was saying.
Are these protests against Putin staged events to discredit Putin, or are they real protests over real injustices?   With covert intel agents involved, we may never know.   They create our news.
People in America trust fake news much less than ever before, and as America slips more deeply into becoming a socialist state, the news becomes even less informative than ever.   Soviet era Russians had to "read between the lines" for their news to figure out what was happening, and they adopted the tactic that whatever was opposite of the news report was probably the truth.
And now America has the same problem.   Whatever our news says may or may not be true, but often the opposite is true.   If they call president Trump a racist, the opposite is true.   If they say America was never great, the opposite was true.  If they say diversity is strength, the opposite is true.
Their lies become useless to us.   We can't believe anything they say.   Their photos are doctored, staged, rehearsed, fabricated like a sand castle.   Truth washes it away.