Everything about this retarded gremlin is a Jew scam
______
Let them sail yachts: Why Greta Thunberg and the environmental elite hate you
31 Jul, 2019 18:04 

/ Updated 5 months ago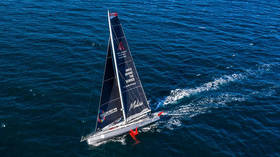 © Facebook / team malizia
Swedish climate activist Greta Thunberg will sail across the Atlantic by boat to attend two climate conferences. But the teenager's carbon-neutral odyssey reveals the disregard – even contempt – the elite have for the rest of us.
Thunberg shot to fame for organizing school walkouts against climate change last year. A series of talks lamenting her generation's impending doom have since made her the poster child for a strange, apocalyptic brand of environmentalism, with British lawmakers nodding along to her declaration that "we probably don't even have a future anymore" in April, and the world's power-brokers listening intently to her exhortation that they should "feel the fear I feel every day," made at the World Economic Forum in Davos several months earlier.
She offers only one path to salvation: an immediate halt to all carbon emissions – there can be no compromise. 
Thunberg practices what she preaches, though, and eschews all forms of internal combustion while she treks from climate conference to parliamentary speech. Rather than fly to the UN Climate Action Summit in New York next month, Thunberg will sail, a journey expected to take two weeks.
However, the young proselytizer will not cobble together a boat from upcycled oil drums and driftwood. Instead she'll be traveling on the Malizia II, a 60-foot racing yacht. The Malizia II is loaded with eco-friendly innovations, like a lightened hull and an array of solar panels powering a backup turbine.
Its crew are also a far cry from the ragtag band of crusties you might imagine. The Malizia II will be captained by renowned yachtsman Boris Herrmann and Pierre Casiraghi, grandson of Monaco's late Prince Ranier III and actress Grace Kelly. The boat, too, was once named the Edmond de Rothschild, after the financial baron and founder of a fleet of racing yachts. Its construction cost upwards of €4 million.
read more: https://www.rt.com/n...berg-hates-you/
Edited by Mario Milano, 21 January 2020 - 05:56 AM.