The Forbidden Earth
                                                                                   By Shaktiman
Science Fiction is regarded as fantasy by hard core scientists and reality obsessed academicians. So much so that hard core physicists deny objective reality in many if not most world views and measures.
Then we have the popular "celebrity" goofopaths like Oprah and Dr. Phil who pontificate to us that perception is reality. They purposefully blur the line. I tried that once when I was walking down the street. I closed my eyes and told myself "I perceive nothing." 
After I walked into a lamp post I had to reconsider this silly idea. No  matter what I   didn't perceive, the lamp post was there.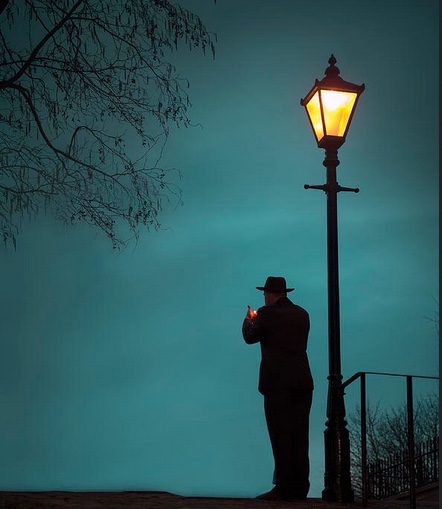 The "I don't see it therefore it's not there" philosophy of atheists doesn't get you much more than a bump on your head. 
 My professor in Abstract Algebra of which I took three courses, used to look at the class and say; "the metaphysics of today is often the physics of tomorrow."
Some of this epiphany comes from hard work and study or even lucid perception. While other times it is prophetic or by Grace.
Both the Conscious and Subconscious mind interplay with both realms, metaphysical and physical.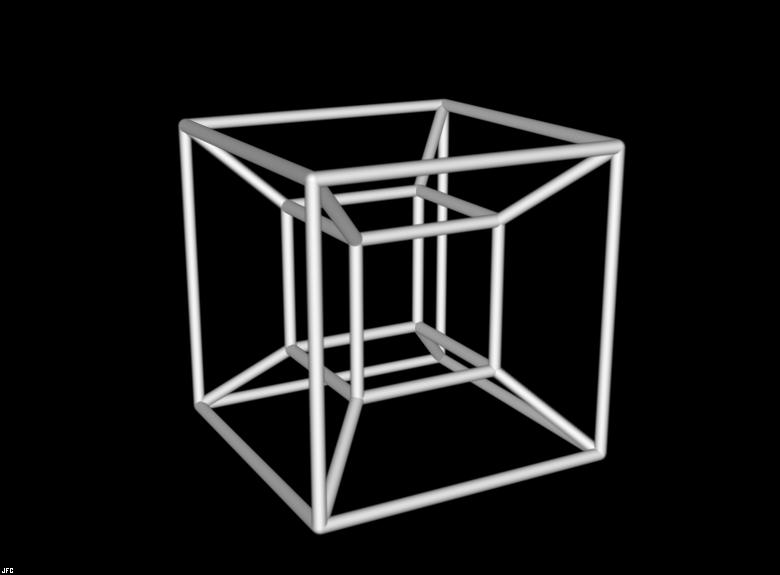 A tesseract: Still a 3D or 2D drawing attempting 4D. Not bad but not correct.
Some very insightful science fiction authors writing about events before their time were the likes of  Jules Verne,.H.G. Wells, Mary Shelley, CS Lewis, and many more, no  less the Book Of Revelation, the yet to come prophesy into this real world
Like many in  mathematics and physics, I tried to draw objects and realities in 4 dimensions.
So far even the best of mathematicians and physicists can  not visualize or draw 4D except in 3D terms or only use symbols, often merely to represent other symbols I too tried for decades and used giant sweeping arrows to point to the motion of 3 dimensional space, but still no cigar. 
Dr Phil: "I'm telling you I see and feel hair there. Don't you? Or are you  as crazy as Propaganda Oprah?"
                       Oprah said; "I think I perceive hair on your head Dr. Phil. Yes, it must be there. God is black you know." 
Writing 4 D in math symbols and doing calculations and abstract geometry or multivariable calculus and analysis is easy by comaprison. Seeing 4D, drawing 4D, using computerized graphics to similate 4D or actually moving about in 4 D is almost impossible for stupid humans.
Note that I said "almost".
Not bad, I use similar foundations and basics. physicists often use 3-D in motion to describe 4 - D. But what's 5 D? I suppose only the Shadow knows what dimensions lurk in  the hearts of beasts.  
A pervbot from outerspace
I wasn't HI nor high either. I recalled instead 
Alan Turing
, the father of computer science. I had read about his work in a Mathematics Association of America journal. Good stuff with plenty of mathematics, physics, and metaphysics in between the lines. I thought I would use some of Turing's approaches and over the years they worked out beyond my expectations.
www.nasa.gov/feature/goddard/2020/nasa-planet-hunter-finds-its-1st-earth-size-habitable-zone-world: "NASA Planet Hunter Finds its 1st Earth-size Habitable-zone World"
NASA's Satellite Found New Habitable Planet, 20% Larger Than Earth
                                     Not NASA again? Y'all know NASA. The agency that flies to the moon after smoking moon dust.
As soon as I gained some backing from the Turing models, its metaphysics, mathematics and physics, I worked out a few calculations that I had also worked on for decades. 
<iframe width="640" height="360" src="
https://www.youtube....ed/KDf2QMhUBjI"
frameborder="0" allow="accelerometer; autoplay; encrypted-media; gyroscope; picture-in-picture" allowfullscreen></iframe>
The truth is that NASA is primitive with its equipment and space travel and it's taken tens of thousands and more engineers and scientists to put together their primitive explorations. Live on their new planet, is it Twilo? NASA's stuck in imaginary numbers without a homeomorphism. Anyone for an isomorphic paddle?
So what evil lurks in the minds of men? Plenty. And so y'all ain't a-goin' nowhere, nohow.
<iframe width="640" height="360" src="
https://www.youtube....ed/f2BYyeS-fIU"
frameborder="0" allow="accelerometer; autoplay; encrypted-media; gyroscope; picture-in-picture" allowfullscreen></iframe>
. 
And no matter how hard I tried to do varied calculations in my vector space or other spaces, the result came out the same, H1.The pun on words was no doubt with intent. 4, 5, 6, and 7 D became clarified and like the Krell machine, the AI just kept on going, a kind of perpetual motion 
Dr. Schrodinger, wave to the particle for T - 2. Or is that T4 - 2
So this is what men might find in outerspace or on the new NASA planet.
Va Va Va Voom!
HI ladies. Take us to your leader.
Regards